Greg Blatt Makes It To The Global Map As He Selflessly Impacts The Technology Arena
Posted On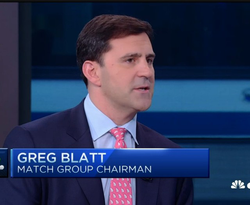 Greg Blatt's professional journey was at one point unfocused. This is because his mother was a therapist and his father was a Management and Consultant Exporter. However, he would join the renowned Colgate University where pursued his degree in Literature after finishing his high school studies.
However, after his graduation, Blatt did not seek to reap from his profession unlike many of his peers. He sought to spend a substantial amount of his time touring various towns such as San Francisco, France, Reims, Budapest, Telluride, and Colorado as Blatt tried to realize his professional passion.
It is during one of his adventures that he realized that he had a thrilling passion to study law. As fate would have it he was admitted to the prestigious Columbia University Law School where earned a Juris Doctor in Law.
After completion of his law studies, Greg Blatt accepted an associate position in one of the leading law firms in New York City dubbed Wachtell, Lipton, Rosen & Katz. Swiftly Blatt started creating a name for himself around the M & A specialty significantly rising through the ranks. Though Blatt had a thrilling passion to practice law, it did not take long for him to realize the intrinsic need to pivot his law practicing career to a more creative and enjoyable space.
Other than holding numerous lucrative and executive positions at IAC Group of Companies, Greg Blatt was an EVP in General Counsel and Business Affairs at the renowned Martha Stewart Omnimedia. Additionally, he also worked in multiple roles at the same company from the year 1999 to 2003.
Blatt was also an associate at Wachtell, Lipton, Rosen & Katza and GrubmanIndursky& Schindler, some two famous law firms in New York. Greg Blatt has continued to make an impeccable impact on the technology industry in America and the world at large earning a global reputation. Visit this page for related information.
More about Blatt https://www.crunchbase.com/person/greg-blatt